Jean Paul Gautier: Be My Guest
From the outset of his career Jean Paul Gaultier has designed the invitations to his catwalk shows and devised the iconic advertising campaigns which have shaped his image. This exhibition presented for the first time this extraordinary body of work. The catwalk invitations were presented alongside ground-breaking advertising campaigns, revealing the themes and concepts which led to his longstanding reputation as fashion's enfant terrible. This graphic design imagery traces a trajectory through the evolution of his work and includes campaigns for seminal collections including A Wardrobe for Two, prêt-à-porter Spring/Summer 1985, where Gaultier introduced his concepts for androgynous clothing.
Jean Paul Gaultier: Be My Guest was a collaboration between London College of Fashion, Montreal Museum of Fine Arts, Maison Jean Paul Gaultier, Paris and the Barbican Art Gallery. Curated by Thierry-Maxime Loriot and Alison as a satellite exhibition to The Fashion World of Jean Paul Gaultier: From the Sidewalk to the Catwalk at the Barbican Art Gallery.
Fashion Space Gallery, London College of Fashion 11.04.14 – 26.07.14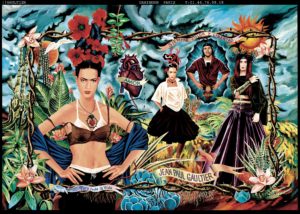 Advertising campaign for the Tribute to Frida Kahlo collection, S/S 1998
Installation photography by Katy Davies